Need the perfect gift for your crocheter?
Looking for the perfect gift for the crocheter in your life? Is that crocheter also maybe a little weird, nerdy and generally quirky? This list is packed with 48 gifts for crocheter, so you are in the perfect place my friend!
PLEASE NOTE! If you are buying for a crocheter and are NOT a crocheter yourself, make sure to check the "NOTE" in each section for more specific suggestions, as it can make a big difference in whether or not you get the right thing <3
Need a pre-built wishlist for friends and family?
Are you a crocheter?
Are you a little weird, nerdy and generally quirky?
This list was built for you my friend! Full of quirky crocheter gifts and some can't-go-wrong crocheter gifts, this list has it all!
<<Pin these 48 Gifts for Crocheters for later!
I've split these 48 gift ideas into 7 sections, which you'll find in this order below:
Yarn Bowls
Yarn
Stitch Markers
Crochet Hooks
Accessories (Think swag like mugs and t-shirts)
Tools
Books
Yarn Bowls as Gifts for Crocheters!
No real notes here, yarn bowls make a really great option for any crocheter! And the ones linked here are great fun!
These yarn bowls are the epitomy of weird and quirky and absolutely freaking delightful!
These aren't a budget item, but they are extremely well done. Each bowl is a unique piece of art! If it's something you want though, you have to snag them if you see them in stock, because these don't last 🙂
Pictured to the right is my own Gayle. Each bowl is named (you can request a name or Lucky will give them one) and a birth certificate. It's a whole experience and Lucky is extremely talented 🙂
A beautiful sugar skull for the discerning yarn lover. These get outstanding reviews and are completely gorgeous!
More unicorns friend. They're just so delightful!!
This yarn bowl gets great reviews and is a more budget friendly option.
There are at least two colors, blue as shown and pink.
Furls makes premium things for crocheters and they have some great bowls for all styles and budgets!
From hand-turned wood to hammered metal, you are sure to find something for every style!!
Skeins and Hanks of Yarn as Gifts for Crocheters
NOTE: Yarn is always something a crocheter needs! However, I recommend that you make sure you really have a good idea of their style and what they like to make before go the yarn route. Otherwise, that amazing yarn you bought may end up collecting dust, which isn't any fun for anyone. Kits can be a good idea for this reason 🙂 
Kits generally come with everything you need to create a thing. See the unicorn and cactus scarf above! They include the yarn and the pattern, which makes for a pretty fail safe gift!
And if you do decide to get some yarn alone, I recommend planning to purchase at least 2 hanks/skeins of the color you decide on. 2 hanks/skeins should be enough to make most smaller things and potentially something a little bigger, just depending on the types of stitches used.
Everything that Joanna brings to life over at High Desert Yarn is just absolutely stunning. Her yarns may not necessarily be quirky or weird, but she has some seriously stand out color palettes that are a safe bet for anyone who loves yarn. She pulls inspiration from nature and is there anything more beautiful?
If you have the budget, Knitcrate offers a monthly subscription of premium yarn that gets delivered to your yarn lovers door. Don't be thrown off by the name, each box includes both a knitting and a crochet pattern.
You can choose from 3 box types (if in doubt, I suggest the "Anything Goes Club" and 4 different different color vibes. 
This makes a great option if you know your crocheter is adventurous and likes to try new things and enjoys a good mystery 🙂
If your crocheter is a lover of all things bold and colorful, these yarns are to-die-for. They are sure to be inspired to create something show stopping with these yarns crafted by Wildflower Yarn!
This is a kit that includes everything your yarn lover needs to create this adorable unicorn stuffie. And has a bonus enamel pin and project bag. A great choice if you want to rest assured that they can take the yarn you gift them and create something awesome!
An awesome kit that includes everything you need to make the pieces shown. If your crocheter likes to stand out in the crowd, this is a great option!
Another great option is to get your yarn lover a gift card to their nearest independent local yarn shop. This is a great way to support a small business and there is little that a yarn lover enjoys more than walking into a shop and playing with yarn!
A quick search on Google should let you know where to go 🙂
Stitch Markers Make Great Gifts for Crocheters!
NOTE: When purchasing stitch markers, make sure you choose an option with a stitch marker that can be opened and closed. Usually you will be given an option and they will use the word Clasp, Lever(back), or Crochet. Choose one of those, as opposed to Rings or Knit. Rings don't work well as stitch markers for crocheters <3 
We use stitch markers to help us keep track of various things as we build a project. It might be used to note a stitch so we can easily find it again later or so that we can keep track of groups of rows to make counting easier!
Make sure you check out the notions tins further down and you'll have the perfect thing to "wrap" these awesome stitch markers in!
The cutest little dinosaurs you ever did see! These little stitch markers are sure to make you crocheter roar with delight 🙂
I don't know what it is about mushrooms! They're just so whimsical and quirky <3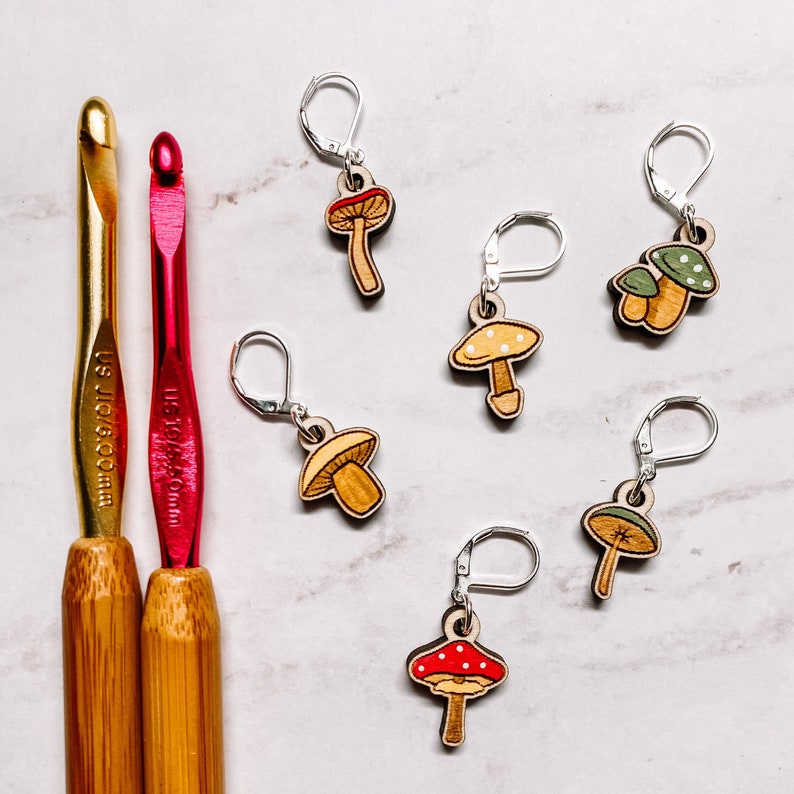 If your crocheter prefers chilling with their gnomies, well…here they go lol
My nickname was gummy bear when I was a kid. That has nothing to do with your yarn lover, but now you know. Oh and these stitch markers…I mean you can't go wrong with candy right?
This is a free pattern and what a deal for this super cute crochet bag! Love the classic vintage flair <3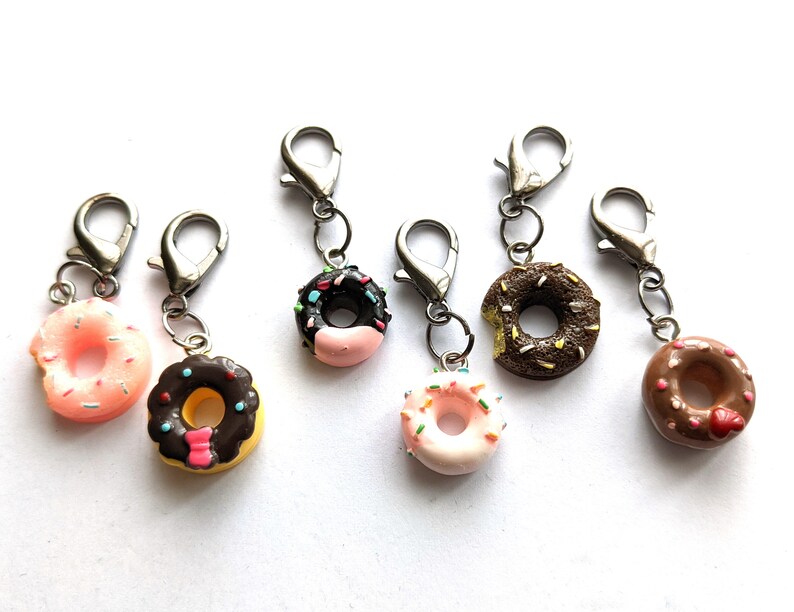 Give them the gift of storage with a sassy zipper pouch! The perfect place to put away the awesome stitch markers you got them!! And with 10 different designs, you're sure to find something that will bring your yarn lover joy!
Unique and dainty! Stars are always a safe bet for just about anyone!
These are so delightfully weird <3 Love all the varying inlays and colors!
If your yarn lover falls into the nerdy, gamer category, these are perfect! Retro gaming for the win!
Witchy Stitch Markers? Yes please! Well I think they would be considered witchy? Maybe not, but definitely great for the astronomy lover!
Skulls are always interesting and I dare say in style. If your crocheter likes the macabre side of life, then these are sure to be a hit 🙂
Magic Crystal Stitch Markers
Enamel crystals that are lightweight and super adorable <3
Crochet Hooks are Great Gifts for Crocheters!
NOTE: Hooks can be a very personal choice. What works for one crocheter may not work for the next. So I've tried to include hooks that are either very popular with lots of different crocheters or have value in their novelty and can be appreciated as art 🙂
What size should you get? If you don't know what size hook they tend towards, an H, I, J or K (5.0/5.5/6.0/6.5mm) size hook is a safe bet. These are the most common sizes used with Worsted Weight yarn, which is the most commonly used size of yarn.
These hooks are handmade and come with a matching stitch marker.
The maker's 5 star review history speaks to the craftmanship and quality of these hooks. 
With everything from dragons and mermaids to manatees and axolotls, you are SURE to find something your yarn lover will absolutely melt at the sight of!
Furls has lots of great tools but they are known for their hooks and their Odyssey is probably their most popular. 
These hooks are my personal favorite and glide through most yarn like butter.
That said, not everyone likes the weight of them. And not everyone finds the price tag to be worth it. The plus side is that Furls has a 100% satisfaction guarantee. Your yarn lover has 90 days to decide they don't love them for a full refund or exchange 🙂
Give them the gift of storage with a sassy zipper pouch! These are a great size for most standard hooks! And with 10 different designs, you're sure to find something that will bring your yarn lover joy!
Another option from Furls is their Streamline Resin Hook. These are a little friendlier price-wise than the Odyssey and share Furls' same ergonomic handle.
They are also much lighter weight, which some people prefer.
And you can't beat the color choices. These things are PRETTY.
If you know your crocheter has been wanting to get a nice set of hooks, WeCrochet has several great options.
Clover Amours are a very popular option with their comfort grips. (I don't recommend the 1.75mm-.60mm set unless you KNOW your crocheter does a lot of tiny work, like lace, jewelry or mini patterns)
They also have wooden hook sets that are lightweight and attractive (Like the Radiant, Majestic, or Mosaic sets)
Another amazing creator of hooks, NerdyBirdy has some really great hooks and awesome reviews. 
If your yarn lover enjoys creepy or nerdy, this is a great shop to check out!
Manda's Knotty Crochet hooks are another great place to find hooks that appeal to your crochet lovers other interests. 
She's got hooks for horror fans, fantasy fans, and other pop culture things!
Another really solid option to get your crochet lover a set of hooks.
These hooks get great reviews and are really attractive in looks and price!
Up Next: Accessories (Shirts, Mugs, Bags, Stickers)
10 free printables for the classiest of yarn lovers!
Know a yarn lover who would love these? Just share this post and they can sign up to get them below or send them this link:

https://www.classyladyyarnworks.com/free-crochet-patterns/home-decor/free-printables-for-yarn-addicts/
Yarn Lover Accessories as Gifts for Crocheters
NOTE: All of these links are really great options, but if you'd like a single one-stop shop to check out, you can't go wrong with Lisa Fox of Green Fox Farms Designs. You'll notice it's her that I've linked like half the time below. I just can't get enough of her awesome shop and yarnie things with a sense of humor 🙂
She has a lot of crocheter swag! From project bags and shirts to tins and stickers, you're sure to find something perfect! 
I don't think it's possible to ever have enough totes, ESPECIALLY as a yarn lover.
They're great for storing your current project or storing special yarn and showing some personality while you're at it! 
WeCrochet has a great selection of bags, including Sparkles the crocheting unicorn here>
Give them the gift of storage with a sassy zipper pouch! These bags are great for storing notions, hooks and even a small project! And with 10 different designs, you're sure to find something that will bring your yarn lover joy!
You can get a lot of stickers individually from Green Fox Farms or just snag a choose your own bundle and pick several. 
Your crocheter is bound to enjoy most of these!
Green Fox Farms here again with a ton of amazing t-shirt designs perfect for the crocheter, knitter or yarn lover in general!
I personally need no less than 10 of these…. 
I'm reading the cards and I see a smiling, happy yarn lover in front of you 😉
A unique crochet lover gift, these tarot stickers are sure to delight!
Green Fox Farms at it again, she creates custom project bags and has some standard options as well. 
A little snarky and a lot useful, you can't go wrong with a project bag!
2 options for the crocheter, 1 is personalized. Both are great because, well…who doesn't love a good candle?
A safe bet for any yarn lover!
You're definitely going to get a chuckle out of this one!
If your yarn lover has a great sense of humor and isn't afraid to show it, this t-shirt is too funny not to love!
I told you like half of this stuff is coming straight from Green Fox Farms Designs. Seriously good stuff in this shop!
Notions tins are perfect for holding all the little things a crocheter needs besides a hook! Things like stitch markers and needles! 
When in doubt, get a mug.
Seriously, nearly every crocheter I know survives on coffee every morning…and coffee mugs, conveniently, also hold wine 😉
I mean…who doesn't need a fanny pack that says "Crazy Yarn Lady?" 
No one I say. No one.
Tools are Perfect Gifts for Crocheters
NOTE: A Swift and Winder (numbers 2 and 3 above) can be a bit tricky. If you've never heard them say they'd like to have a set or you've never seen your crocheter hanging a hank (that's the yarn that looks like a cinnamon twist, like the Wildflower Yarn further up the page) and trying to ball it by hand, you may not want to chance a swift and winder. 
These items are specific to winding up hanks and don't have much use if your yarn lover doesn't buy hanks…well…not much use outside of the joy of just watching them spin…it's kind of mesmerizing…
Lucet forks are used to create cord. Cord can be useful in crochet for wall hangings and some garments and accessories. 
This lucet is a very nice hand-turned tool that's just as beautiful as it is useful.
Mostly I would recommend this if your yarn lover is always playing with yarn in more ways than just crocheting. If they like an adventure and learning new things, this is for them!

Swifts are used for winding hanks of yarn (see NOTES at the top of this section if you don't know what I'm talking about) and WeCrochet's swifts are very popular.
In my opinion they make a good yarn swift at a reasonable price. This swift, in the birch color, is the one I personally own and it's been a champ for me!
Though I wish they'd had the onyx (pictured at the top of this section) when I bought mine, because damn it's pretty!
And if you get a swift, you probably ideally want a winder. You can check that out below, but just note that WeCrochet also has winding kits, definitely worth checking out! They're a great deal if they are within your budget and include extras like a yarn bowl and/or scale!
As mentioned above, if you get a swift, a winder is the logical next step. One CAN ball by hand off of a swift, but it's definitely not ideal…
So if you really *ahem* LOVE your crocheter 😉 you'll want to get them a winder to go with the swift. Make sure you check out the winding stations above if you do decide to get both, as they're a good deal and come with a yarn bowl and/or scale. All of which can be pretty useful 🙂
Can you put your needles into any old container?
Yes.
But why would you want your yarn lover to have to use a boring plastic container, when they could have one of these GORGEOUS wood needle cases?
And as always, Furls has a 100% satisfaction guarantee 🙂
Give them the gift of storage with a sassy zipper pouch! These bags are great for storing notions, hooks and even a small project! And with 10 different designs, you're sure to find something that will bring your yarn lover joy!
Books Make a Great Gift for Crocheters
NOTE: It's not the worst idea to sneak a peek at the book shelf and see what kind of pattern books they already have to make sure you get something in line with what your yarn lover likes. 
ALSO, there are several Amigurumi (little stuffed toys) suggestions here. If you've never seen your crocheter make a little stuffie, you might want to skip those as options. Some people are intimidated by Amigurumi and your well-intentioned gift of cute things may go unused <3
Full of super cute fantasy creatures, this book full of Amigurumi patterns is sure to please the nerdy crocheter who's in love with all things whimsical!
This is a book of officially licensed crochet patterns for the lover of the wizarding world.
It includes more than 20 official patterns inspired by Harry Potter!
In this pattern book you will find 20 inspirational dolls to stitch. Such a great book full of every day heroes like Maya Angelou and Frida Kahlo.
If your yarn lover is passionate about social issues and spreading joy, this is a great book full of 20+ patterns!
If your yarn lover is in to fairy tales, they're going to love this one! There are 30 characters included!
Give the gift of gifting…or something like that.
Here's the thing, crocheters love to make and gift things. This book would be perfect for your yarn lover to have on hand when they need a gift idea for someone they love. 
Plus , of course, make some fabulous home items for themselves 😉
Looking for some other patterns to inspire you?
Snag one of these free crochet patterns by yours truly (that'd be me, Steph, of Classy Lady Yarnworks) as the perfect gift for the crass family and friends in your life 😉